This weekend I had the pleasure of traveling to St. Barths, an island where the rosé flows like water. I have been to many islands in the Caribbean (mostly when I was a frequent cruiser in my formative years) and this one is just different. St. Barths is a state of mind rather than a destination. The moment you arrive, you are transported into the je ne sais quoi of this small, luxurious, and incredibly stylish enclave. It is filled with small pleasures, excellent cuisine, great design, and people who want to enjoy themselves. This is why so many businesses want to capture and recreate this essence. If you look too hard you may realize you are on an elaborate set, or you may even see the Wizard behind the curtain. However, it is hard to care given the amount of rosé running through your veins. This week, I search for answers about what makes this island so unique and puts its visitors in a St Barths (NY) state of mind.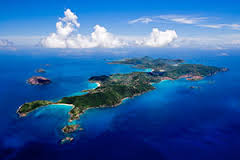 Orlebar Brown
First, there was Vilbrequin, then there was Sundek. Now there's Orlebar Brown ... Even though this designer is British, they have borrowed (stolen?) the spirit of St Barths in their clothing line. They have brought a tailored look (in short, mid-length or long) to men's swimsuits. They even have a photographic suit with the original Red house (now Eden Rock for those in the know) printed on the shorts. This way you can be an insider and roll from the pool to the beach to lunch, and back again, and always be in style. If you don't want to see yourself coming and going, check out #snapshorts, Orlebar Brown's design your own service where you can put your own photo, pattern or drawing on your (BF's, bros, hubby's, Dad's) swim shorts ... get started here but please don't put a picture of your kids, I couldn't bear that.
Colombier Hike
Our hotel(s) were located on Flamands Beach, as we stayed at both Taiwana and Cheval Blanc (thank goodness for my Rise gear)! In April these hotels will be merged, and it is anticipated that the laid back chic vibe of Taiwana will be replaced by the slightly less laid-back chic of Cheval Blanc. The set will be changed, the assortment of toiletries will bear different names, and the splashes of red color by the pool will be replaced by pink. We will have to see for ourselves when it is unveiled in December of this year. Either way, Flamands Beach provides a magnificent view of surrounding rock formations and is known for the turquoise waters, the calm surf and the white beach. However, before you kick back on your beach chair, you need to earn that bottle (or two, maybe three --- did anybody say Jeroboam?) of rosé at lunch and get your steps in. The hotel fitness center just won't cut it!   Each morning, I left the hotel (breakfast) behind and followed the path along the coast through a Nature Reserve that provided epic vistas. One morning, I even saw a family of goats on a steep outcropping of rocks (central casting?). While this portion of the hike is not very rigorous, you may have to ruin your manicure and put your hands down to balance yourself on the rocks. As you approach the peninsula, you can walk down to Colombier beach, which locals still call "Rockefeller's Beach." There is a nice path to walk there and back and enjoy this little enclave for boats looking to moor overnight. For the more intrepid traveler (lunch drinker), from here you can start heading up! According to fellow hiker and Louper Robin K., this ascent is 75 stories. At the top is a lookout point where you can take a selfie and see the various points of interest on the map. It is the perfect way to start the morning and remove the guilt of the liver damage that will soon ensue! 
Francois Plantation
I kept passing this hotel and restaurant on my hikes to Colombier. Every time I passed, I was increasingly curious. Then I read my friend's blog daytripper365 and knew this was a must. Come for dinner or a late afternoon cocktail. This boutique hotel comprised of 18 bungalows has been completely renovated and the only surviving detail is the name of the acclaimed restaurant. Have a drink by the pool shaded by Palm trees in the lush garden, listen to nature (plus a few McCaws) and you'll feel miles away from the DJ spinning tunes a la the beach party lunches. If you are looking to have a romantic meal, visit Francois Plantation for dinner. This is a hard table to come by, so book early. They are famous for their Bouillabaisse, so this is a must! The style is a mix of tropical Colonial and Caribbean boho chic, which has a very different feel than the other restaurants on the island. Oh, and they have a vast menu of rum (the Caribbean tequila) and Cuban cigars --- so they had me at bonjour!
Free in St. Barths
This name is quite ironic. Obviously, you are free to do what you want as a consenting adult in St Barths, but these comfy clothes are most definitely not free. And, in fact, nothing is Free on the island! While these clothes are downright expensive, I must admit they contribute to the mindset of comfort, style, and relaxation.
Big Truck Hats
Nothing says, "I don't drive a Big Truck" like a hat that actually says, "Big Truck." In fact, I think it really means that I drive a rented BMW Mini around St. Barths. No matter what, this is the perfect hat to keep the sun from your head when on the beach in St. Barths. These hats are so great, you may want to leave the straw fedora in your hotel room for the day!
Le Tamarin
Open for lunch and dinner, Tamarin is a great spot to stop on your way to or from Salines beach or as a reprieve from the beaches altogether. The 200 year old tamarind tree as you enter sets the tone for the jungle feel of eating in the lush gardens. Grab a table in the shade and enjoy the amazing cool breeze and simple, fresh food. Breathe.